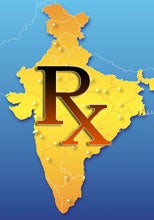 The Indian pharmaceutical sector seems to be in danger of losing its "Indian" prefix. Today, Aventis Pharma, which is headquartered in Mumbai but part of the Sanofi Group of France, announced that it had signed a deal to acquire a unit of Mumbai-based Universal Medicare that markets and distributes branded health and nutritional products in India. Also, Indian business daily The Economic Times reported that Takeda, Japan's largest pharmaceutical firm, has "begun talks with two of India's biggest companies for purchasing either of their pharma businesses."
Over the past few years, the pharma sector in India has seen several high-profile mergers and acquisitions. In June 2008, Daiichi Sankyo of Japan took over Ranbaxy, India's largest pharma company, for $4.6 billion. In May 2010, U.S. multinational Abbott Labs snapped up the domestic formulations business of Piramal Healthcare for $3.72 billion. Takeda's reported targets are Cipla and Lupin — No. 1 and No. 5, respectively, in the country's pharma sector. Both companies have denied that any talks are taking place. Takeda has declined comment, Reuters reported.
The takeover trend has some in the Indian government worried. Union health minister Ghulam Nabi Azad last year asked his counterpart in the commerce ministry to implement special restrictions on foreign direct investment (FDI) in the pharma sector. The commerce ministry appears to be on the same page. According to Indian newspaper Deccan Herald, a commerce ministry paper has warned: "There is a concern that [Indian drug companies'] takeover by multinationals will further orient them away from the Indian market, thus reducing domestic availability of the drugs being produced by them."
The fear is on two fronts. The first concerns the price of drugs. India has traditionally imposed controls on the cost of life-saving medications. But the number of regulated drugs has come down from 347 in the 1970s to around 70 now. If largely multinational corporations are left in the industry, they could opt to collectively withdraw certain drugs from the market unless they are allowed a price hike. Secondly, Indian companies are concentrating their research on diseases that are of greatest concern to the Indian population. If multinationals take over, the thrust could well shift to Western lifestyle diseases.
Multinationals are eyeing India because they see rapid change in the country. Currently, government spending on health care is only $32 per capita compared to $4,590 per capita in wealthier nations, according to the World Health Organization. But medical spending is expected to increase sharply as India's population ages and incomes rise. "India is one of our most important markets in the emerging world," says Antoine Ortoli, a senior vice president at Sanofi.
While the value of the deal with Universal Medicare has not been disclosed, it is likely to be smaller than earlier takeovers because the acquisition only involves distribution and marketing rights — Universal will continue to manufacture the products. Indeed, some analysts suggest that India could ultimately become a manufacturing base for multinationals.
But why haven't Indian pharma firms attempted more takeovers of their own? Some acquiring companies — like Sun Pharmaceutical, which in 2010 completed its purchase of Taro Pharmaceuticals of Israel — have scored a measure of success. Others – like Dr. Reddy's Laboratories, which took over Betapharm of Germany in 2006 — have been nearly swamped by the foreign company's losses. Another issue is that the pharma industry globally succeeds on the basis of blockbuster drugs and high R&D spending. But Indian companies have prospered because of reverse engineering; they typically don't have the funds or the culture to develop blockbusters.
Ajay Piramal, CEO of Piramal Healthcare, which was sold to Abbott, was himself a takeover specialist in an earlier era. He diversified from his textile business with a series of acquisitions — the Indian subsidiaries of Nicholas Laboratories, Roche, Boehringer Mannheim, Rhone Poulenc, ICI and Hoechst Research Center. On selling Piramal Healthcare, he told Indian economic daily Business Standard: "I don't think we were in a position to take the company global. Abbott has the strength and aspirations to do that."