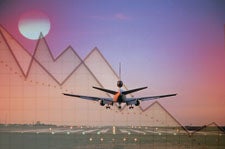 The flamboyant Vijay Mallya, India's Richard Branson, is known as "the king of good times" after the advertising slogan for his Kingfisher beer. But the good times seemed to have ended for Mallya last week when his airline, also called Kingfisher, seemed to be in danger of a crash landing. The airline had run out of cash and credit, and was unable to pay for aviation turbine fuel, which led to the cancellation of dozens of flights.
Kingfisher's future is still in question. Indian Prime Minister Manmohan Singh has indicated that the government may step in with a bailout package. Mallya remains confident. "We are not shutting down," Mallya told media in Mumbai. "We have never asked the government for help and never will." But the occasion for his statements was a news conference after releasing Kingfisher Airlines' second quarter results, which showed a loss of US$92 million. The airline suffered a US$45 million loss in the first quarter.
"Aviation is a high fixed cost sector, very sensitive to small margin changes for its survival," says Rajesh Chakrabarti, an assistant professor of finance at the Hyderabad-based Indian School of Business. "What we are seeing here is not unprecedented. In most downturns in the U.S., aviation companies make a beeline for Chapter 11. That said, it is probably not what we would expect in an economy expected to grow by at least 6%."
A major challenge for airlines in India is that they have to pay aviation turbine fuel prices as much as 50% higher than international rates. This is almost entirely due to government levies, and some observers argue that the government has an obligation to rescue beleaguered airlines. (And it has done so more than once with the National Aviation Company of India Limited, the entity formed by the merger of national carriers Indian Airlines and Air India.)
But even as Singh was promising help for Kingfisher, civil aviation minister Valayar Ravi was doing the opposite. According to a Reuters report, Ravi said that he was not considering any bailout plans. Instead, the ministry proposed a plan to allow foreign direct investment in the Indian airline industry, news that caused Kingfisher shares to gain in value on the stock market.
The difference in the perceptions of Singh and his ministers is also reflected in India's broader economic forecast. While Singh is still optimistic about a GDP growth rate above 8%, finance minister Pranab Mukherjee has said that a 7.7% rate (the same rate achieved in the first quarter of this fiscal year) as more reasonable. Shankar Acharya, former chief economic adviser to the government of India, predicts that growth will slip below 7%. "Three months ago, I was even thinking in terms of somewhere between 7% and 7.5% [growth] for the current fiscal year," he told CNBC-TV 18. "Now that's looking optimistic."
Indeed, many indicators are now showing signs of possible trouble ahead. Inflation has eased somewhat, but it is still relatively high; for the week ending November 5, food inflation was at 10.63%. Exports are down, and commerce minister Anand Sharma says the trends are "very disturbing". The rupee has crossed 50 to a U.S. dollar, with independent brokerage and investment group CLSA predicting that it could go down to 58. The Bombay Stock Exchange sensitive index is at its lowest in nearly two years.
"I wouldn't quite call it a crisis yet," says Chakrabarti of ISB. "But, yes, the recovery anticipated seems not to be materializing." He doesn't think Kingfisher's troubles are a harbinger of more disasters to come, however. "It is not total doom for either the sector or the economy," he notes. "It is possible that higher interest rates and oil prices are taking their toll on some companies. But it is too early to write off the economy because of an airline illiquidity or insolvency."