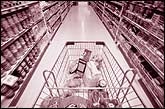 Foreign direct investment (FDI) in multi-brand retail, which was supposed to be the harbinger of a new generation of economic reforms in India, has turned out to be a two-week wonder. On November 24, the Union Cabinet cleared 51% FDI in multi-brand retail and 100% FDI in single-brand retail. On December 3, Congress Party ally Trinamool Congress, which is part of the ruling combine at the Center, announced that it was not to be: The government, said Trinamool leader Mamata Banerjee, who is Chief Minister of the state of West Bengal, had given in to her demands. This was later confirmed by Union Finance Minister Pranab Mukherjee. "Retail FDI put in cold storage," said morning daily The Times of India.
There was much action between those two dates, of course. And inaction, too. Opposition parties protesting against FDI in retail ensured that Parliament remained suspended most of the time. On December 1, there was a bandh (shut down) across the country by traders and mom-and-pop stores. With the Right (the opposition Bharatiya Janata Party — BJP) and the Left (the communists) joining forces with various elements of the Congress combine, Prime Minister Manmohan Singh really had no choice. To add to the pressure, some part of the Congress Party itself is opposed to retail liberalization.
Singh had thought one particular clause would defang the opposition: While allowing FDI, the Cabinet left individual states to make the final decision. If Banerjee in West Bengal didn't want the Wal Marts and the Carrefours, she could keep them out. An analysis showed that, given the position that various states had taken, only about 25 of the top 50 cities would allow foreign retail. But in the end, the politicians didn't bite.
Commerce Minister Anand Sharma also found no takers for his arguments. FDI in retail would create 10 million jobs in three years, he told newspersons in Delhi. Says a PricewaterhouseCoopers-Confederation of Indian Industry study: "Allowing FDI into the retail sector will usher in large global companies who will need to hire millions for their pan-India retail operations." Sharma said farmers' earnings would be doubled from current levels. But political opposition refused to give an inch.
Analysts note that the retail FDI brouhaha appears to have become a political game. The BJP is a party of traders. It had originally supported FDI in retail but has backtracked to pander to a key constituency. The Left and other parties want to take on the role of the saviors of the kiranas (mom-and-pop stores). But several studies have shown that modern retail and kiranas can exist together. The small shops have several advantages modern trade cannot match. They offer credit to customers. They deliver purchases home — even items costing a few U.S. cents. And they offer personalized service.
Informed opinion is also supporting FDI in retail. According to a recent study by apex chamber of commerce Assocham, 90% of consumers are for FDI. The study was conducted across the country. At the other end, 78% of the farmers also support FDI. So who's opposing it? Assocham found that the naysayers were principally among the traders and middlemen, 80% of whom were strong critics.
Meanwhile, industry is building up the case for FDI in retail. In a paper released on December 4, industry doyens Ashok Ganguly and Deepak Parekh stated categorically that "the protests on FDI in retail are misconceived and unfortunate." Titled "The False Dangers of FDI in Modern Retail Trade," the statement said: "FDI in retail has not been a sudden decision taken by the government. On the contrary, the idea has been toyed with for over 14 years…. Modernization of retail trade is an essential part of India's growth story…. To conclude, this is a call to the saner sections of Corporate India to come out and strongly support progressive measures…."
Just a few days ago, other voices were being heard on the issue. "Political differences and vested interests should never be allowed to stand in the way of India's economic progress," tweeted Tata Group chairman Ratan Tata. "The Indian government needs to work at a faster pace," Reliance Industries' Mukesh Ambani told delegates at the annual India Economic Summit in Mumbai. "Just because we live in a democracy doesn't mean that we should feel paralyzed."
The global retail majors, many of whom already have a presence of some sort in this country, are keeping out of the controversy by remaining silent. But actions speak louder than words. On November 28, Carrefour India announced the opening of a second cash & carry store. Said Jean-Noël Bironneau, Carrefour India executive director: "This second opening in Jaipur represents the next step of Carrefour's implantation in the Indian market, which holds important growth opportunity. As well as our intention to expand in the cash & carry segment, we maintain our ambition to develop in other formats."