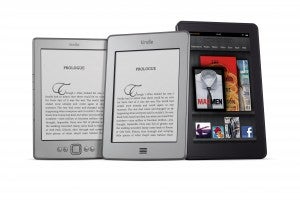 Amazon became a serious player in the tablet wars yesterday with the unveiling of the Kindle Fire, a $199 device that many expect to be the first to seriously take on Apple's iPad, which still leads the sector.
The Kindle Fire features a touch screen, Wi-Fi capability and access to Amazon's content library of e-books, movies, TV shows and music. It will become the anchor of Amazon's hardware offerings, which are expanding to include a $149 Kindle with touch screen and 3G capabilities, a $99 Wi-Fi-only touch screen version and a $79 classic Kindle.
While introducing the Kindle Fire, Amazon CEO Jeff Bezos called the device an "unbelievable value" — it is $300 cheaper than the least expensive version of the iPad, which is $499. But will the Fire's combination of price and performance be enough to succeed where others have failed?  Hewlett-Packard recently unloaded its remaining TouchPad tablets at fire sale prices after deciding to discontinue the device. Meanwhile, Research in Motion's shipments of the BlackBerry PlayBook tablet during the most recent quarter was half of what Wall Street expected.
"The Kindle Fire will definitely be the most serious competitor thus far to the iPad," says Wharton operations and information management professor Kartik Hosanagar. "Given Amazon's experience with the Kindle, and its experience with content and overall execution, I fully expect the Fire to be a terrific device."
Price is a "very important" part of that equation, according to Hosanagar. "Amazon did not just come out with a device that is $40 or $50 cheaper than the iPad…. At its current price, the Fire will put significant price pressure on the iPad. I expect Apple to revise its pricing for the iPad soon."
Wharton operations and information management professor Eric Clemons takes a slightly different view. Clemons notes that the Fire is targeted toward entertainment, such as games or streaming movies. Rather than challenging Apple's device, he predicts it will force the iPad to include things that "should have been … supported long ago," such as word processing or spreadsheet programs. "This will just force the iPad to be more like a netbook sooner."
Creating a lower-priced suite of Kindles represents a change in Amazon's strategy, according to Clemons. "I did not buy a Kindle years ago because I thought either the Kindle should be free and the content priced like paperbacks or the Kindle should be priced like an entertainment device and the content should be priced at Amazon's marginal cost (the author's royalties plus some payment to the publisher).  I think this is a move toward pricing the Kindle at marginal cost and pricing the content like books."
The stripped-down Kindle is not meant to take on the tablet sector, he says. "This creates a market for Kindles for people who just want to read content. But it will not compete directly with the iPad any more than a Schwinn competes with a Harley or a Honda."