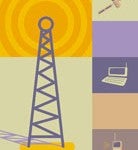 Following the crash-and-burn ending to AT&T's questionable quest to acquire Deutsche Telekom's T-Mobile USA, one of the more interesting questions is, what will happen to the U.S. wireless carrier now?
T-Mobile is a tough case to figure out, says Gerald Faulhaber, an emeritus professor of business and public policy at Wharton. Other wireless carriers – such as Clear mobile broadband and Cricket Wireless – are getting into the market, under-pricing T-Mobile, and "these new guys seem to be able to grow.… How come T-Mobile can't see what's going on? T-Mobile looks like a basket case, and it does not have to be. What would happen if Deutsche just sold T-Mobile off publically?"
Faulhaber suspects there is a potential good fit between T-Mobile USA and an acquirer, perhaps a Japanese company or entrepreneur committed to aggressively turning the company around. "We'll probably see new interest in T-Mobile."
David Hsu, a Wharton management professor, points out that the recent winners in this burgeoning era of data communications "seem to be some of the smartphone hardware and software developers instead of the carriers." One reason: Acquiring spectrum rights and installing equipment is capital intensive, as is advertising and payments to smartphone hardware companies like Apple.
"Everything takes place on a large scale with only limited information about demand and competitor offerings, and largely without experimentation," adds Hsu. "The carriers seem to compete based on coverage, quality of service and, to a limited extent, on pricing and data plans. They do not have control over the same platform to shape the consumer experience akin to Apple, including inducing developers to contribute to the value of iOS [Apple] devices via the App Store."
Thus, AT&T's inability to follow through on the T-Mobile merger "reinforces the sense that the carriers have only limited avenues to control their own destiny," Hsu notes. "Maybe it is time for the carriers to explore investments in different directions outside of their traditional lines of business and ways of operating."
Had AT&T acquired T-Mobile USA, it would have become the largest wireless company in the U.S. with 130 million customers, surpassing number one Verizon, which has about 96 million wireless customers. T-Mobile USA's parent, Deutsche Telekom, itself has 130 million customers at present.
More generally, AT&T's move for T-Mobile has been difficult to understand from the start, Faulhaber says. AT&T's case for the acquisition was roundly criticized as unconvincing, and many observers – including apparently the Justice Department — saw it as a raw grab for customers that would make it the top carrier. It got a huge reaction from Congress and from the public, and the Justice Department immediately filed suit to block the deal.
Faulhaber further notes that AT&T's key justification for the action nominally was that it wanted to acquire more spectrum to support business expansion, which would allow it to reach 93% of all U.S. wireless customers. But that "did not make a whole lot of sense" given that the T-Mobile acquisition came with customers who were already using much of that spectrum, Faulhaber says. "This was not empty spectrum.
"AT&T has a very sorry record on mergers … and when they announced this, I thought, $39 billion? Are they crazy? The reasons they gave for the move did not add up to $39 billion to me." No one could make a solid business case for the deal, unless it was a bid to "get tremendous market power," Faulhaber says. "Merging from number two to number one is suspicious. I firmly believe the [wireless] market as constituted is pretty competitive. Others don't think so. But this deal had the potential to damage that competitiveness." So, "no one believed" AT&T's arguments about spectrum acquisition or the other reasons given for the merger. "They just could not make the case."
But it gets worse. Not only did AT&T lose out on the deal, it paid a record $3 billion in penalty costs to Deutsche Telekom and also gave up a significant amount of spectrum valued at about another $1 billion, the very commodity the firm said it was hoping to expand in the deal.
ATT will "stumble along," says Faulhaber, and it will remain the number two carrier. "AT&T is basically a solid company." But there is "no question it will have to get better," and part of that will involve getting more spectrum. He pointed to rival Verizon Wireless's recent move to spend $3.6 billion on new wireless spectrum acquired from cable companies, led by Comcast, as an innovative direction.