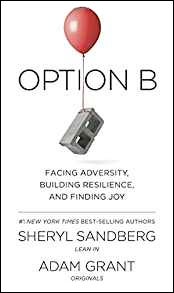 Two years ago, Sheryl Sandberg was leading a good life. She was the chief operating officer of Facebook and author of the legendary New York Times bestseller Lean In. She was a renowned business leader and a role model for women around the world. She was happily married to Dave Goldberg, the CEO of SurveyMonkey, and they had two young children.
Then the unthinkable happened. On a family vacation in Mexico, Goldberg died suddenly and unexpectedly of heart failure while using an exercise machine. He was 48.
"I was lucky for a long time. And then I wasn't," Sandberg said simply and poignantly in a recent talk at Wharton as part of the Authors@Wharton speakers series. Sandberg was joined by Adam Grant, Wharton professor of management and psychology and the author of Originals and Give and Take.
Sandberg and Grant have co-authored a new book, Option B: Facing Adversity, Building Resilience, and Finding Joy, published in April, which chronicles Sandberg's progress from a state of overwhelming, paralyzing grief to being able to appreciate life in a new way. Stories of others who have faced adversity are included as well. At Wharton she spoke about the book and described how Grant has been a partner on the journey.
Grant was already an acquaintance of Sandberg and her family, and attended the shiva, the Jewish period of mourning, at Sandberg's home. As the guests were leaving, Sandberg asked Grant to stay. "I was thinking, OK, he's a psychologist…. I looked at him, I'm sure hysterical, I was like, 'What do I do? How am I going to get my kids through this? Tell me what to do.'"
"Dave's death trashed my self-confidence … and I've thought a lot about self-confidence. I wrote Lean In." –Sheryl Sandberg
His response was something that might not have worked for everyone, she said, but for her was "incredibly comforting…. He started summarizing research." (Sandberg is a self-described "geek" who holds a B.A. in economics, summa cum laude from Harvard.) She said, "When anyone gives you any steps you can take — particularly for me, ones that social scientists had studied that they knew worked — that was a lifeline."
To her worry about whether or not she and her children were strong enough to get through the grief, Grant answered, according to Sandberg, "Resilience is a muscle and you build it…. Don't ask me how much you have; ask me how to build it." 
The Three P's That Hold Back Healing
Sandberg said Grant told her about the three P's: traps that people fall into when facing adversity ranging from the death of a loved one to getting fired from a job to not getting into the college you wanted. (Grant joked with Sandberg, "I remember when I first brought them up, you said, 'Why do you psychologists need three of everything, and why do they have to start with the same letter?'")
The first P is personalization: the idea that what happened is your fault. "I blamed myself for Dave dying," said Sandberg. She explained that at first Goldberg's death was thought to have been caused by head trauma from falling off the exercise machine. But an autopsy revealed that he had coronary artery disease, which had led to a cardiac arrhythmia. Sandberg, the only non-doctor in her family, felt guilty that she had not gone to medical school, "as everyone had told me to do all along," personally diagnosed her husband's condition and saved his life.
She also felt guilty, she said, about the people she was "burdening" with her grief: "all the people at Facebook who were taking meetings for me; my mom who gave up her life to live with me for a while." She apologized constantly, until "Adam told me I wasn't allowed to say 'sorry' anymore."
Grant sent her research on resilience showing her that self-compassion is a key factor in recovery. Sandberg spoke about how unkindly people can sometimes talk to themselves. She told the story of a woman who was excited to finally be going on her first date after a divorce. A voice inside her head told her, "You're unattractive and boring:" a statement that no friend would ever utter. After adversity, people must achieve self-forgiveness in order to heal.
"When I fell asleep in the first meeting of the first day back, [Mark Zuckerberg] said, 'A lot of people fall asleep in meetings…. But you made two good points today." –Sheryl Sandberg
The second P is pervasiveness: the belief that the traumatic event will turn every area of one's life into a disaster. Sandberg shared an experience from her first job after college in which she was asked to enter data into a spreadsheet program called Lotus 1-2-3.  She didn't know how, and her boss, a professor, said "I can't believe you got this job not knowing how to do this." She said she felt like a complete failure and was convinced she would be fired. The sense of pervasiveness, she writes in Option B, was telling her she was terrible at everything.
"It turns out I was only terrible at spreadsheets," she goes on in the book. "Understanding pervasiveness would have saved me a lot of anxiety that week."
One aspect of experiencing trauma that Sandberg said "shocked" her was how "Dave's death trashed my self-confidence… And I've thought a lot about self-confidence. I wrote Lean In," she said. This, too, was linked to pervasiveness. She found herself thinking, "I've lost Dave, now I'm going to lose my job [at Facebook], I'm going to lose everything." She imagined herself sitting at home while her children were in school, with nothing to do all day but grieve.
She said her boss Mark Zuckerberg was incredibly helpful in "building her back up." Once she was back at work, he focused not on how she still had some trouble functioning, but on how good she was at her job.
"When I fell asleep in the first meeting of the first day back, he said, 'A lot of people fall asleep in meetings… But you made two good points today. And here's what they were.'" When she made a mistake, he said lightly, "Oh, you would have made that mistake before." Although it sounds kind of funny, she said, it was actually very comforting.
Zuckerberg's reaction to Sandberg's adversity has changed her own attitude toward helping co-workers going through difficult times, she said. Of course it is critical to offer time off, or to ask if the person suffering would appreciate having a big project taken off their shoulders. "But if they don't, and they're back, I say, 'Do you want to do this? You're great at this.' Or I take the time to compliment the little things they might not have needed [to be] complimented on before." It's important, she said, to reassure them they can do their job.
The third of the three P's is permanence, said Sandberg: believing that the all-encompassing grief felt initially will be there forever. "Adam and others said it would feel better. And I did not believe it." But, she said while the grief remains, "it does not feel the way it did two years ago. I can breathe."
Sandberg said an awareness of the three P's and the traps they pose can help people in many tragic situations recover more quickly, and even find joy in their lives again.
Building Collective Resilience
Grant noted that academic research on personal resilience began with extremely disadvantaged groups, such as children in severe poverty who had suffered violent abuse, and talked about the "idea of privilege." Sandberg, despite the tragedy, has had a lot to be grateful for. "There are very few people who have the resources that you do, and also have such great supportive friends who benefitted from your generosity for years and had a chance, then, to pay back."
Sandberg agreed and said she knows how lucky she and her children are in many ways: "Even in the face of trauma, resources matter." What if losing her husband had meant also losing her house or apartment, for example? She noted that in America "public policy is just abysmal" and cited as an example the situation of a low-income single mother who has to choose between staying home to care for a sick child and keeping the job she desperately needs.
"We have a deep responsibility to prevent hardship [in this country], because hardship is not evenly distributed." –Sheryl Sandberg
She discussed some of the existing interventional programs described in Option B, such as the Nurse-Family Partnership, which provides disadvantaged families with home visits and counseling from pregnancy to two years old. By the time these children turn 15, they experience police arrests half as often as their peers. Programs like these help build resilience within families, said Sandberg
Sandberg has publicly stated that she is donating her income from Option B to Option B.Org. The organization is a nonprofit initiative of the Sheryl Sandberg & Dave Goldberg Family Foundation, the same foundation that runs LeanIn.Org, which is dedicated to helping women achieve their ambitions.
Option B.Org's mission is to "help people build resilience and find meaning in the face of adversity," according to the website. People can read and share personal stories, join support groups, and research information from experts. Areas covered include grief and loss, abuse and sexual assault, divorce, incarceration and serious illness.
"We have a deep responsibility to prevent hardship [in this country], because hardship is not evenly distributed," said Sandberg. She stated that racism, disadvantage and poverty lead to more violence, more death, and more job loss. Through the Option B book and organization, she said, she aims to "talk about and teach how to build collective resilience."