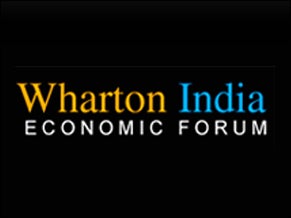 In a keynote speech at the first Wharton India Economic Forum (WIEF) to be held outside Philadelphia, ICICI Bank and Infosys chairman, K.V. Kamath predicted that the next ten years will be a "game changer" for India. At the conference in Mumbai, Kamath and other speakers discussed India's growth in recent years, and what is needed to spur further economic expansion.
One of the most interesting aspects of that growth, according to Kamath, is, unlike in the 1990s, there is more internal resource mobilization. Some 65% of the economy today does not need borrowing from abroad to fund growth. To hike this percentage further, Kamath suggested that it is necessary to integrate the 600 million Indians who do not have bank accounts into the mainstream. Financial inclusion is vital, he noted, and it is the responsibility of not just the government, but corporate India as well.
Kamath, who led ICICI's transformation from a development financial institution to a bank, does not agree with those who claim that the Indian banking sector is in poor shape. The fears expressed over the levels of non-performing assets were unwarranted, he said, and GDP growth numbers do not capture all sectors. His comments were echoed by Vinay Rai, the country's comptroller and auditor general: "When the world is growing at 2%, we are growing at 7%," Rai noted. "We have clearly moved away from the Hindu rate of growth of 3% to 4%. Right now, all indicators are improving."
But the country is not without problems. Speakers at a panel discussion on "Financing the Growth of India" said that getting government permissions for any project remains a monumental task. One idea floated was the creation of a Union ministry for infrastructure. But the consensus was that such an entity might lead to even more gridlock. For one, there is no accepted definition of the word "infrastructure." Lalit Jalan, CEO of Reliance Infrastructure, noted that a project could be cleared in two years in one city, but take four years in another, making it difficult for companies to plan or allocate resources.
There are other burdens facing Indian industry, said Surjit Bhalla, chairman of OxUS Investment and the moderator of the panel. "India pays the highest in the world for labor, for capital and for energy." If just one of these factors were to improve, he noted, there would be a big impact on growth.
According to Chanda Kochhar, managing director and CEO of ICICI Bank, there is no magic wand to wave to solve these problems. "We are an argumentative democracy," she said. "As a democracy, we cannot write out three prescriptions and say this is the solution." Many of today's worries are mainly affecting big companies, she added. "Go to the rural areas or small and medium enterprises and you will get a different picture," she said.