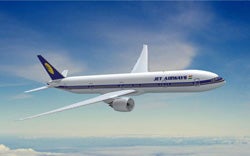 Etihad Airways, the national airline of the United Arab Emirates (UAE), has picked up a 24% stake in India's Jet Airways. This is the first deal struck after the foreign direct investment (FDI) policy for the aviation sector was amended in September of last year.
The new government rules allow a foreign entity to take a 49% stake in an Indian scheduled airline. By buying just 24%, Etihad stays above the Securities & Exchange Board of India's (SEBI) radar. SEBI regulations would have required Etihad to make an open offer — Jet is a listed company — if the acquired holding was to be above 25%.
The minority holding in India's largest private sector carrier is valued at $379 million at Rs. 754.74 ($13.90) per share. Etihad will also inject another $220 million  into the deal "to create and strengthen a wide-ranging partnership between the two carriers." The UAE group has already paid Jet $70 million for the sale and lease back of the latter's slots at London's Heathrow airport.
"The Indian market is fundamental to our business model of organic growth partnerships and equity investments," Etihad president and CEO James Hogan said in a statement. "This deal will allow us to compete more effectively in one of the largest and fastest-growing markets in the world."
"This is a win-win situation," adds Jet founder and chairman Naresh Goyal. "This transaction further strengthens the balance sheet of Jet Airways and, more importantly, underpins future revenue streams, which will accelerate our return to sustainable profitability and liquidity."
The Jet-Etihad deal is likely to catalyze dramatic changes in the Indian aviation sector. The Jet group will further consolidate its position as market leader. According to the Directorate General of Civil Aviation (DCGA), Air India (domestic) has a market share of 20.7%, and Jet is second with 18.3%. However, when combined with with Jetlite, the budget airline that is part of the group, its market share rises to 25.2%.
Air India's leadership has already begun complaining about "unfair competition." Others have sounded warning notes as well. "Instead of giving Air India the time it needs to consolidate as well as expand its network, [the Jet-Etihad deal] will only hasten its demise," said former federal railway minister Dinesh Trivedi in a letter to the prime minister. In a previous article, Wharton management professor Saikat Chaudhuri told Knowledge at Wharton that "external shocks" could derail the initial signs of a turnaround at Air India. "I have been a vociferous supporter of government backing for Air India," he noted.
Critics, however, say that a turnaround at Air India is an oft-repeated story. "It is no longer credible," says Jitender Bhargava, a former Air India executive director who is writing a book about the airline.
And the national carrier is likely to face even more competition soon. The Foreign Investment Promotion Board has already cleared a joint venture proposal between the Tata conglomerate and Kuala Lumpur-headquartered budget airline AirAsia. AirAsia would hold a 49% stake, Tata Sons 30% and Arun Bhatia of Telestra Tradeplace the remaining 21%. Bhatia runs Hindustan Aeronautics and is related by marriage to L.N. Mittal of ArcelorMittal.
Apart from Air India, the other loser in this deal is Vijay Mallya's beleaguered Kingfisher Airlines. Etihad was negotiating with Mallya to pick up a stake in Kingfisher. But the airline — which has lost its license — may have been too big a risk.
The markets and analysts have welcomed the deal. "It is a game changer not only in terms of what it gives to Jet Airways but for Etihad as well, which has big plans for India," Kapil Kaul, South Asia CEO of the Centre for Asia Pacific Aviation, told The Economic Times.
"I don't see this as a game changer, but it is certainly very good for the sector. It will bring in cheer and optimism and may open up one or two similar deals, which will be good in the long term," Captain G.R. Gopinath, the founder of Air Deccan, told Knowledge at Wharton. "For Jet, it is a very good deal…. It will bring in the much-needed cash infusion and will allow it to dovetail into Etihad's network. For Etihad, it gives access to the inexhaustible Indian market…. For consumers, it will mean better connectivity, better prices and better service." Gopinath adds that "India needs to wake up and figure out what kind of policy framework it needs to make the country an aviation hub."
The $13.90 Etihad is paying per share is at a premium of 31.55% to Jet's closing price on the Bombay Stock Exchange on Tuesday. (Wednesday was a market holiday.) The scrip was trading 13% up on Thursday. It has risen 15% since April 17.