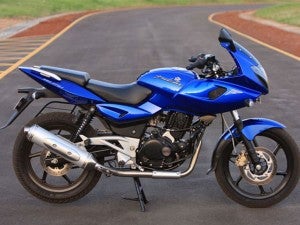 For most people in Western countries, a two-wheeler is either a bicycle at one end of the spectrum or a top-of-the-line motorcycle, with the power of a small car, at the other. In countries like India and China, and others in Africa, Asia and Latin America, it's the 100cc to 150cc vehicle that rules the road. India is the world's largest manufacturer of two-wheelers (by volume), and HeroMotoCorp is the biggest company.
This market has always been very active. Today, with car sales experiencing a slowdown in the wake of the economic crisis, two-wheelers are taking up the automobile sector's slack. According to the Society of Indian Automobile Manufacturers (SIAM), growth this year will be only 10% to 12%. Crisil, a Standard & Poor's company, estimates that it will be lower — 5%. (In 2010-2011, domestic car sales grew at 30%.)
Two-wheelers, however, are revving up. According to figures collated by economic paper BusinessLine from the manufacturers, HeroMotoCorp sold 549,000 vehicles in September 2011, an increase of 37% over the corresponding month of the previous year. Bajaj Auto grew 18% to 371,000 and TVS 17% to 184,000. The growth numbers were best for Honda Motorcycle & Scooter India (HMSI), which rose 44% to 178,000.
Observers are paying particular attention to HMSI and HeroMotoCorp. Until last year Hero and Honda had a joint venture (JV), Hero Honda. The Japanese have sold out to their partners and the company has been renamed HeroMotoCorp. This leaves the Indian company free to design its own strategy, particularly in exports. These were restricted earlier, because Honda preferred to service third-country markets through its own plants in other countries. HMSI, which had no connection with the JV, will get Honda's undivided attention now. The company opened its third plant in the southern state of Karnataka in late September.
The two-wheeler industry has also fended off the small car challenge. Tata Group chief Ratan Tata had projected the Nano as the next stage in the evolution of the two-wheeler owner. But it didn't pan out that way; the Nano is still a damp squib. "The Nano has never posed any problem for us," says Bajaj Auto chief Rajiv Bajaj.
Almost everyone is increasing capacity. Bajaj is planning a factory in Gujarat with an annual capacity of five million. HeroMoto launched its new logo (following the break-up with Hero) in London in August, which shows the direction it is aiming for. "We are poised to go global," said CEO Pawan Munjal.
Other smaller players are also getting active. Yamaha Motors, also in the superbikes segment, grew 35.2% in September. Earlier this year in April, Garware Motors launched the Hyosung super bikes. Priced at US$10,000, it costs more than four Nanos. "These are the first superbikes in India in the 650 to 700cc range," says CEO Diya Garware. Incidentally, Bajaj Auto also has a superbike in its stable – the KTM Duke. This has been developed along with KTM Sportmotorcycle of Austria in which the Indian company has picked up a substantial stake. Suzuki Motorcycle India was stepping on the gas even earlier with two launches in 2008,
The superbikes will make waves and money. But the bread and butter will come from the more down-to-earth models. "India has a dire need of mobility solutions for the masses," says Mohan Lal, analyst (media & retail) at Elara Capital, an equity research firm. "The time lag in launching infrastructure options such as mass transit systems to bridge this gap is huge. Two-wheelers have been growing at a steady clip precisely for this reason."
Culture and Marketplace Effects on Perceived Price Fairness: China and the USA