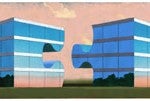 Merger and acquisition activity looks set to rise in 2011, according to a new survey by Knowledge at Wharton and KPMG LLP.
Nearly two-thirds of respondents to the survey were more optimistic about the merger and acquisition (M&A) environment this year compared with their attitudes a year earlier. Key reasons for the higher optimism include a more stable economic environment, stronger buyer confidence and improved debt and equity markets.
The survey, conducted by Knowledge at Wharton in collaboration with KPMG LLP, generated 992 responses from executives at public companies, private firms, and hedge and private equity funds. Over half of the respondents were active buyers last year.
Three industries are likely to lead the M&A activity, respondents noted: banking, financial services and health care.
Just this morning Sanofi-Aventis, the French pharma company, announced it will buy Genzyme under a $20 billion cash deal (plus performance-related payments). It was the largest acquisition in the last two years in pharma and the second-largest ever in biotech.
Other industries likely to see relatively strong M&A activity include energy and technology. Additional drivers of growth this year, according to the survey, include an interest in:  increasing revenues, growing market share, extending geographic reach and entering new business lines.
Two-thirds of respondents think North America will be the most active in M&A, with China and India expected to be the next most active markets. But overall, North America remains the world leader in M&A volume. In the U.S., despite a slight drop in the fourth quarter of 2010, M&A activity for the year was well ahead of 2009. Last year, 445 deals in the U.S. totaled $33.9 billion, according to Dow Jones, a 17% increase in deal activity from 2009.
Dan Tiemann, KPMG's Americas region transactions and restructuring leader, notes, "At the end of 2008 and through 2009, companies were retrenching. They were worried about profitability and some were even concerned with survival. Now, those who survived want to grow again and are armed with the cash and the stronger stock valuations to do so."
Saikat Chaudhuri, a Wharton management professor, agrees. During an economic crisis, M&A is used more for survival than for growth. "Now, as we are coming out of the crisis, companies don't want to miss new opportunities. Leaders want to extend their lead."
But Chaudhuri cautions that the recovery may not be uniform and smooth. "There will be hiccups along the way…. Employment may lag. The debt market may take longer to recover than anticipated. Overall, it will take a while to come out of this mess – a few years at least." He advises prospective acquirers to look at growth activities with a medium- to long-term time horizon in mind.
The joint survey was sponsored by KPMG LLP.
Download a white paper with the survey results below: