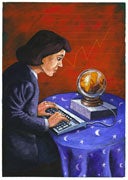 In today's tough market, many job seekers are focused on simply being hired, rather than landing in the industry or position of their dreams. But panelists at the recent Wharton Women in Business conference said the economy should not be an excuse for abandoning a well-researched, targeted search strategy or letting job-related disappointments derail a career.
Caroline Strzalka's job search strategy stemmed from choosing a company — Sesame Workshop — that she wanted to work for and taking a position that would get her foot in the door. "When I joined Sesame, I took a position in retail strategy. I had done some retail strategy in the past, but it wasn't my passion at all," noted Strzalka, now the company's business development director. "But working there for a year allowed me to make some inroads. I like to say that I weaseled my way into the group that I wanted."
Although she agreed that it's relatively easy to move around within a company after being hired, Brooke Eplee, director of strategy and corporate development for Sony Music Entertainment's global digital business division, launched her search knowing she wanted a position that provided an outlet for her passion for music. "I finished my MBA in 2009 during the worst part of the financial crisis. The down market provides every excuse, every reason, for you to pursue your passion and not to settle for something. There are a lot of people looking for jobs and if you're pursuing something you're not passionate about, there are 20 other people lined up for whom it is their passion and who want that job."
Julie Anixter, CIO of MagaDesign, a visual information mapping and communications firm, also advised job seekers to choose a position "that makes you happy to get up every morning." But she also said it's important not to discount fields, such as sales or business development, which may provide valuable — and easily transferrable — experience. "If you can sell what a company does and understand it well enough to [convey] the company's value to the person across the table, that's a profound skill."
Despite all efforts, many job seekers will end up at firms or in positions that they don't consider ideal. But it's important not to let any feelings of discouragement cloud performance, noted Linda C. Brigance, vice president of IT customs clearance and logistics for FedEx Services and chief information officer of FedEx Trade Networks. "If you don't care for that job, people will see that. If you go in and give everything you have to that job regardless of much you like it, someone will take notice and maybe an opportunity will grow [from that.]"
If you're trapped in a job you don't like, find a group of people who have the kind of position you want and spend your free time cultivating those contacts, Strzalka suggested. "You may not absolutely love your job, but if you're going to a meeting that night where you'll be networking with people who are doing something you really like, that's building a skill set," for making it to your target industry, she noted.
Feeling stuck in an undesirable job can result in boredom and feelings of depression, but Anixter said those emotions are a sign to "raise your hand and ask for more to do or to pull in more stimulus. It's not acceptable to waste your job or your energy…. Do not allow yourself to be bored. That is a victim mentality. If it's a crummy job, make it a good job."
For more advice on overcoming a workplace that's making you sick, check out this recent Knowledge at Wharton story.