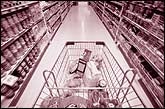 The new regulations on foreign direct investment (FDI) in retail are making slow progress through New Delhi's government machinery. On July 22, a committee of secretaries (CoS) cleared the proposal for 51% FDI in multi-brand retail. It has now to go to the Union Cabinet for final approval.
Almost everyone in retail has welcomed this move. "This has been ongoing for the past four years so I am not really surprised," Kishore Biyani, chairman of the Future Group, India's largest retailer, told The Times of India. "But now we are more positive that this will become a reality. As far as the opening up of multi-brand retail goes, we as a retailer think it will speed up the business prospects of the overall industry."
The foreign firms who are eyeing the Indian market are a shade circumspect. "We are waiting to get the details," says Raj Jain, managing director and CEO of Bharti Walmart. (Walmart has a wholesale cash-and-carry and back-end supply chain management operation in India in a joint venture with telecom group Bharti.)
Jain is being cautious because there is still some distance to go. Though most of big retail has no problems with the entry of FDI and global majors – which means more competition – there is opposition from the mom-and-pop stores backed by the Bharatiya Janata Party (BJP). The BJP has already declared that it will not allow companies with 51% FDI to set up shop in the states that it governs.
The CoS approval comes with some strings attached. The government is likely to insist that the foreign investors earmark at least 50% of the funds for the back-end and the supply chain. Another suggestion is that the foreign retailers should be restricted to big cities with a population of 1 million plus. In these markets, small retailers already co-exist with the organized Indian companies.
FDI in retail is important because it will be a signal to foreign investors that the reform process has started again. Because of the large mom-and-pop constituency, this issue is politically sensitive (see FDI in Multi-brand Retail: The Next Big Thing in Reforms, but Roadblocks Persist).
What may get this key reform initiative over the hump is galloping inflation. Food inflation has come down to some 8% now, but it had crossed 18% earlier. A poor monsoon could bring it back to high levels.
FDI in retail is now being sold as a partial solution to the problem of rising prices. A committee appointed by the government has published a report which says that FDI will bring more efficiencies into the system. The rules do allow 100% FDI in supply chains and cold storage. But foreign investment has not come in as entry to the front end – multi-brand retail – has not been eased. Meanwhile, wastage in the food chain amounts to US$24 billion annually, says a PricewaterhouseCoopers report.
Observers believe that a calibrated entry of foreign capital would have been allowed by now. But a series of scandals (see Capital Plight: What Drives Corruption in India?) has hit the government's resolve. The anger against repeated scams has now spilled into the streets, with an anti-corruption crusader and a popular yoga expert going on hunger strike. Police campaigns to evict them and their supporters have added to the climate of conflict. More of the powerful – the latest being former Union telecom minister and more recently textiles minister Dayanidhi Maran – have been dragged into the controversy. FDI in retail may not be high priority for the government in this environment.
Stale or Sticky Stock Prices? Non-Trading, Predictability, and Mutual Fund Returns