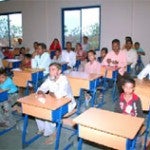 The Supreme Court of India recently gave the green light to the Right of Children to Free and Compulsory Education Act of 2009. Better known as the Right to Education (RTE) Act, it ensures free education for children between the ages of six and 14 who belong to economically weaker segments of society.
The main provision of the RTE directs all schools — including private schools, with the exception of those run by certain religious and linguistic minority groups — to reserve 25% of their seats for students from underprivileged backgrounds in their neighborhoods. Any school that does not comply with the RTE rules will be derecognized by the government. This goes into effect beginning with the 2012-2013 academic year.
The government expects the RTE to provide a level playing field to the vast number of children who are unable to access quality education because of economic and social constraints. According to Kapil Sibal, India's union minister of human resource development, the RTE "is an attempt at affirmative action and social integration." In an article in the daily newspaper Times of India, Sibal noted that if the RTE Act is implemented "in the right spirit … [it] could well become a model for the world to emulate."
But the move has raised concerns among private schools. One issue is around the financing of the scheme. According to the RTE, the government will bear the additional cost incurred by the schools. But it is expected that government grants will only meet part of the expense; the rest of the cost will be passed on to regular fee-paying students. Then there are concerns over creating parity between different levels of education and exposure. There is also a fear that local politicians will use the provisions of the act to pressure schools in order to gain brownie points among voters. In a recent column, T.V. Mohandas Pai, chairman of Manipal Global Education Services, noted: "The RTE will give power to school inspectors for enforcement, creating a source of harassment and corruption."
Experts also suggest that the act could have an adverse impact on investments in the education sector. Talking to business daily The Economic Times, Manish Sabharwal, chairman of TeamLease Services, said: "Just as government subsidies do not reach those who need it, 25% of the seats will not go to the poor. RTE will not get our kids educated, but [it] declares war on education entrepreneurship." Added Vishal Jain, president of wealth management at Nadathur Investments: "The idea of RTE is noble, but the implementation is not appropriate."
Currently, around 90% of schools in India are either directly operated by the government or funded by it. However, it is estimated that 40% of school-going children attend private schools. In contrast, in the U.S. more than 80% of children attend government-run schools. In U.K., the number is over 90%.
Experts say that instead of compelling the non-aided private sector schools to reserve 25% of their seats, the RTE should first focus on improving the quality of education in government schools. Justice K.S. Radhakrishnan, the dissenting judge in the Supreme Court verdict, noted that the government cannot free itself from its obligations by "offloading or outsourcing [them] to private … actors like unaided private educational institutions, or coerce them to act on the state's dictates." According to Pai: "The [RTE] is a chimera and gives a perfect excuse to the government to abdicate its responsibility to improve [education] quality."