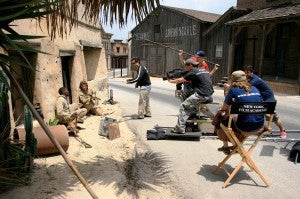 In recent years, India has increasingly become a favored destination for a host of foreign companies and educational institutions. Now, the New York Film Academy (NYFA), a leading film education institute, is setting up its first state-of-the-art South Asian campus in Greater Noida near New Delhi. The academy is set to open in January and will offer the same courses as the New York campus.
According to NYFA, professors from the school's New York and Los Angeles campuses will travel to the India site on a rotating basis to teach for at least one year. Industry observers say the school will fill a training void in the country. According to the report, "Film Industry in India: New Horizons," by Ernst & Young and the LA-India Film Council, "India currently has a dearth of institutes that impart formal training and education in film and creative technologies. At the grassroots level, there is a need to formally train technicians in the industry, who [at present] are largely self-trained."
Ashesh Jani, a partner at consulting firm Deloitte Haskins & Sells, notes that for Hollywood, India is an important market. "The key indicators of this are the [recent] collaborations and purchase of stakes by Hollywood studios in Indian companies," he says. "There is also a surge of Hollywood films that are being dubbed in several Indian languages and are even forming part of the major content on reputed television channels. In the animation world, too, the Hollywood studios have made it a point to release the latest films promptly in [India.]"
Pointing to specialized Indian firms catering to the demands of various Hollywood studios in the fields of production, post production and distribution, Jani adds that India's media and entertainment industry, which was earlier viewed as being fragmented and dispersed, has reinvented itself in the areas of technology, planning and governance. This, in turn, has made multinationals more interested in forging relationships with them.
Indian post-production company Prime Focus, for instance, worked on 200 visual effects for James Cameron's blockbuster movie Avatar. India Take One Productions has prestigious projects such as The Best Exotic Marigold Hotel, Eat Pray Love, Life of Pi, and Mission Impossible 4 – Ghost Protocol in its portfolio. DreamWorks Studios is funded among others by Reliance BIG Entertainment. Earlier this year, Walt Disney acquired a controlling stake in India's UTV. The Motion Picture Association of America has a wholly-owned Indian subsidiary. Viacom18 Motion Pictures, a part of the Viacom18 Group, has a partnership with Paramount Pictures International to distribute the latter's theatrical releases in India, Bangladesh and Sri Lanka.
According to a recent report by the Confederation of Indian Industry (CII) and PwC titled "India Entertainment and Media Outlook 2012," the industry is projected to grow from $1,764 million today to $2,829 million in 2016. The Indian box office is among the fastest growing markets in the world, next only to China among markets greater than $276 million and is expected to surpass the U.K. market to become the fifth largest market in the world by 2016.
With over 1,000 films being produced every year in India in more than 20 languages, the Indian film industry is one of the biggest in the world. However, there is a lot of scope for growth. According to the CII-PwC report, an Indian on an average watches only 1.7 films in a year, as compared to an average of over four films a year in the U.S.