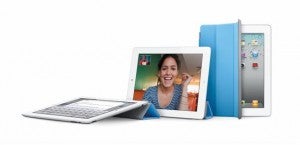 "Six months ago, I was a pioneer. Now, I'm old school." That comment — posted on Facebook by an Apple user — pretty much sums up the feelings of iPad owners following the roll out of Apple's next-generation tablet.
The iPad 2, which goes on sale March 11 with data plans available through AT&T and Verizon, was unveiled by Apple CEO Steve Jobs, who made a surprise appearance at a launch event in San Francisco despite being on medical leave. The new iPad is 33% thinner, up to 15% lighter and promises to be much faster. There are two cameras — one on the front and one on the back — to assist with video calling, and a new adapter (sold separately) that plugs into a TV and allows content to be viewed on the big screen. Possibly the most visible new addition is the "smart cover" screen protector, which doubles as a stand for holding the iPad upright and comes in a rainbow of colors. (Watch Apple's demonstration video for an example.)
http://www.youtube.com/watch?v=Z_d6_gbb90I
What Apple hasn't done is deviated from the key features that helped sell nearly 15 million iPads since the device was launched last year, according to Wharton operations and information management professor Eric Clemons. The iPad has "sufficient memory, a great screen, very low weight, a great user interface and access to the Apple App Store," said Clemons, who bought an iPad 2 on Wednesday.
"Apple dominates because of the device itself, the App Store and the ease of integration with Apple's laptops and desktops," Clemons notes. "Nothing in the new machine weakens any of these." While Clemons would have liked to see the next-generation iPad come with more memory, he says the company is providing the upgrades that consumers were waiting for, such as a streamlined design and the new camera. "Only the memory upgrade was missing. On the other hand, I did not expect to be able to play my movies on a hi-def TV yet."
Forrester analyst Sara Rotman Epps predicts that in 2011, the iPad 2 will claim 80% of the U.S. tablet market share. "Apple understands desire," Epps wrote in a blog post. "The first thing consumers will notice about the iPad 2 is how it feels: lighter (by a crucial two ounces) and thinner (at 8.8mm, thinner than an iPhone 4). Color triggers emotion: iPad 2 comes in not just black but white, with multiple colors in the thin 'smart covers' that snap into place with 'auto-aligning magnets' and clean those unsightly fingerprints off your screen. The rest is important but more cerebral: dual-core processor, HDMI video-out converter for the 30-pin connector, etc. Emotion enters back into the equation when consumers see what they can do with the device — see their loved ones through FaceTime, touch-edit videos in iMovie, improvise on touch-instruments in GarageBand and actually sound good doing it."
After the iPad became a hit, Research in Motion, Motorola, Hewlett Packard, Dell, Samsung and others unveiled competing devices. "The tablet wars are far from over," Epps wrote. "We have yet to see a play from potential disruptors like Amazon, who could enter the tablet market at a lower price point, or Sony and Microsoft, who could offer radically differentiated value propositions. Things could get rowdy. But for now, Apple still defines the tablet market, with a product consumers will desire at a price that's hard to beat."
In a recent Knowledge at Wharton story on tablets, Wharton experts agreed. Apple may have defined the initial rules of the game, but like the smartphone market, the tablet arena is expected to be one of multiple players. "It's not too late for tablets," management professor Saikat Chaudhuri said. "You can compete on technology or distribution as you try to reach your installed base. You can also compete in a niche segment if [that segment is] large enough."