As Europe's economy slows and Italy slips into recession, the Eurozone must continue to focus on economic reforms that have helped keep its economy on a steady keel in recent years, notes this opinion piece by Kalin Anev Janse, secretary general and a member of the management board of the European Stability Mechanism (ESM), the Eurozone's lender of last resort. Some work on those needed reforms was completed in 2018 and the outlook looks good for additional progress this year, he writes
Each year in this op-ed, I like to look at Europe's immediate future and spot the big trends that will shape the year. And, of course, I want to know whether what I predicted the last time around came true. So, before looking ahead again, how did I do when mapping out last year?
A year ago, Europe's economy was booming. The election of Emmanuel Macron as the president of France a year earlier had silenced many eurosceptics. After the Brexit vote, and the election of Donald Trump in the United States, the European Union had proven it could stick together. And so, I expressed hope that we could further strengthen the ties that bind us together.
I identified five reforms that Europe needed most urgently. These were all steps to make sure that the euro area — the club of 19 EU countries that use the euro as a currency — is better protected against a crisis. Europe's citizens suffered a massive cost from the past crisis — and this must never happen again. The safety system that Europe has put in place since then is good. But it still needs to be perfected. That is why we need these new steps.
Of the five measures that I listed, the euro summit — a meeting of the 19 heads of state or government — in December 2018 put three in place. And there is a clear pledge to continue working on the other two. Let me list them here.
The backstop to the Single Resolution Fund (SRF), helping failing banks that need to be resolved at a European level, will be put in place. It will be provided by the ESM, my institution.
There is a mandate for a concrete proposal on a euro area budgetary instrument for convergence and competitiveness. This is a first step towards some sort of a fiscal capacity for the euro area. The concrete setup will be discussed the first half of 2019.
And the role of the ESM has been strengthened considerably. The intergovernmental treaty underlying my institution is currently being amended to include the new mandates related to the backstop to the SRF, a stronger role in future crises, and a better use of precautionary credit lines for euro area countries. The ESM will have a bigger role in examining economic developments in the 19 countries of the euro area, without, of course, duplicating the surveillance role of the European Commission, and will also have a possible facilitation role in negotiations between countries and private sector investors in the case of debt restructuring (like the London Club).
"It is truly heartening that 19 sovereign nations jointly decided these steps for international cooperation even though no crisis was forcing them to do so."
Job well done in three out of five cases!
Work continues on the other two. There is a clear political commitment to put in place a common deposit insurance for Europe (the fourth step). The fifth step — harmonizing financial markets — is also still work in progress, but there is little or no political controversy here.
It is truly heartening that 19 sovereign nations jointly decided these steps for international cooperation even though no crisis was forcing them to do so. This is what the EU is all about: solidarity, multilateralism and pragmatic decisions in the best interest of citizens.
So What's Up for 2019?
It's a crucial year for Europe. The continent is on the move with a changing economic situation, elections that will renew the full European leadership, and a new president for the European Central Bank. Here are the key topics to watch this year in Europe.
First, economic growth is easing off. The euro area has been growing above potential for some time now, and a cyclical slowdown is inevitable. Growth is expected to decelerate to 1.3% in 2019 and 1.6% in 2020. This is still solid, and follows from a 10-year high of 2.4% in 2017. This slowdown is largely driven by key economies like Germany and Netherlands, which are running at maximum speed with almost full employment. If all your workforce is deployed, a country can only grow faster if it makes (technological) productivity gains, which take time. In addition, Italy, the euro area's third-largest economy, has entered into a recession.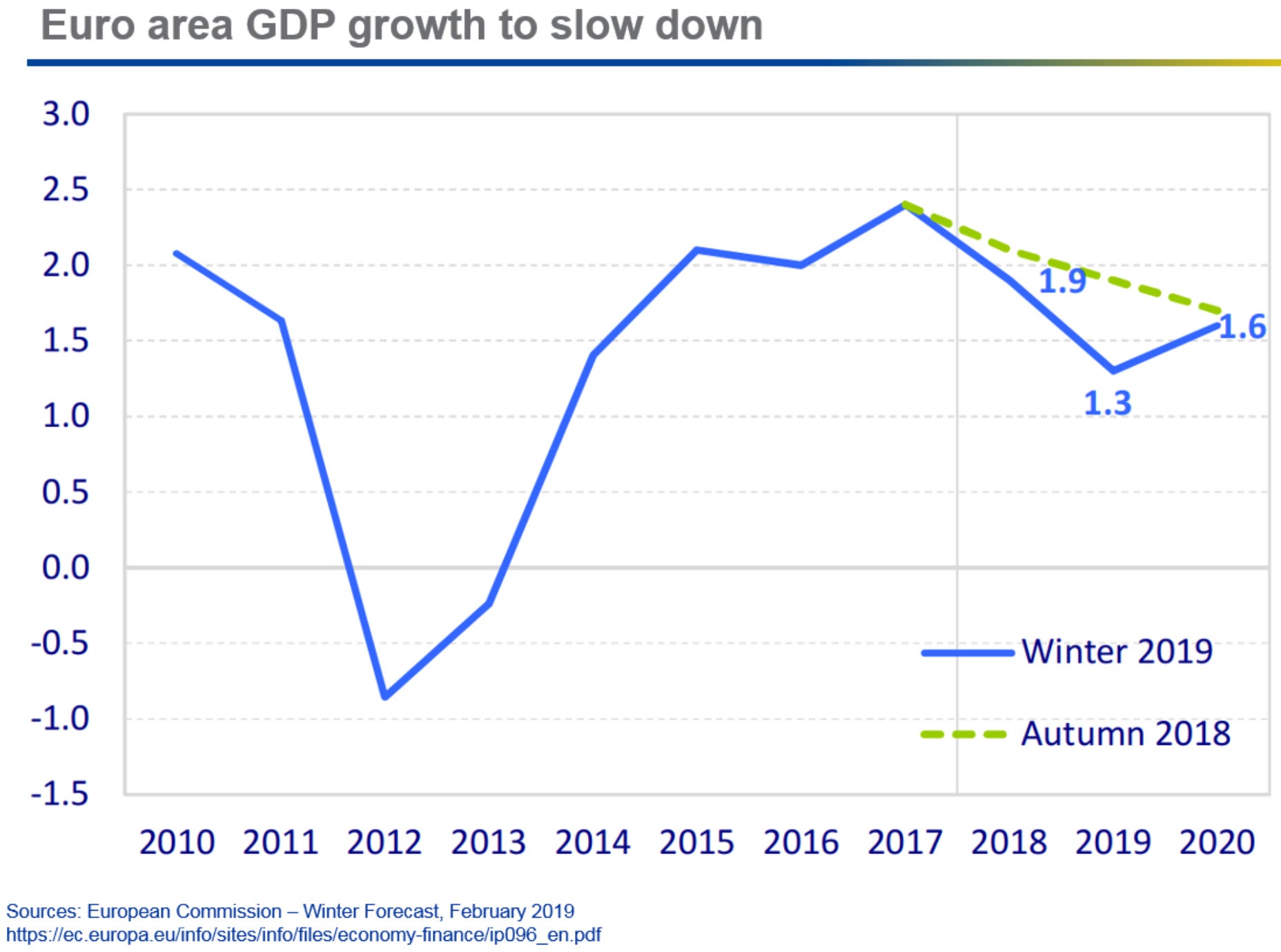 The uncertainty about the outlook is high, and there are many risks: trade tensions between China, Europe and the U.S., the impact of Brexit, populist parties gaining strength and uncertainty about what will happen in Italy. But the euro area has hidden intrinsic strengths that are sometimes overlooked. The fiscal deficit in Europe is, for example, much smaller than in the U.S. and Japan. The debt-to-GDP in the euro area is also less than in the U.S. And, while U.S. debt-to-GDP has been on the rise, Europe took advantage of the good times over the last four years to reduce its ratio. This provides Europe with a competitive edge. Given lower interest rates in Europe than in the U.S., European taxpayers can service their debt more cheaply and easily. Europe also has much more policy and fiscal space to embark on a stimulus — if needed — to respond to these risks. So, while the outlook isn't as bright as it was last year, there is no immediate cause for concern and some structural strength.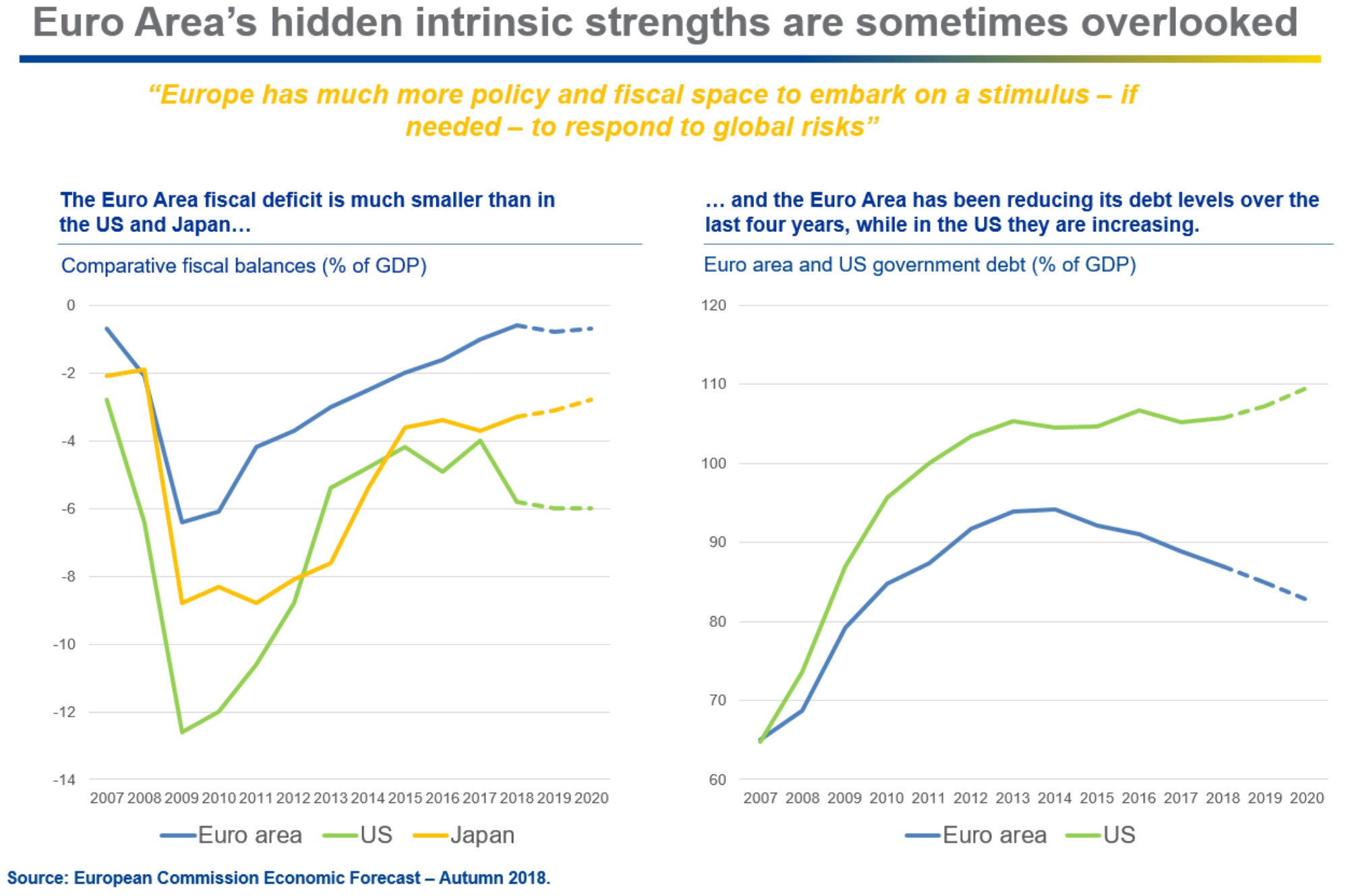 Second, the European Parliament elections are a factor to watch. No doubt a lot of printing ink will be spilt on Eurosceptic parties. They are poised to gain more seats in the Parliament. But will they gain enough power to derail European integration? I don't think so.
The "gilets jaunes" protests in France this winter have shown that we cannot ignore the concerns of those who feel increasingly disenfranchised by modern democracies. But that doesn't mean multilateralism will come to an end. Europeans understand the benefits of international cooperation very well. The popularity of the euro, which is at record highs across the euro area, is only one piece of evidence. People recognize that countries need each other to address issues such as migration, the threat of terrorism and climate change.
Voting will take place in May 2019. If Brexit takes place as scheduled at the end of March, a total of 705, down from 751, seats will be up for grabs at the European Parliament. Whoever gets elected has an impact on the choice of president of the European Commission, the EU's executive body.
The largest political parties — such as the Christian-democrats and social-democrats — will compete to have a candidate to succeed Jean-Claude Juncker as president of the commission. But no single party bloc is expected to have enough seats in the Parliament to push through their top candidate, the so-called "Spitzenkandidat." So expect to see some inter-party wrangling to build a coalition to find a compromise to fill this influential position.
Not only will the president change, but also, most likely, a majority of the 27 Commissioners. On top of that, the term of Donald Tusk — the president of the European Council — ends in November 2019. Juncker and Tusk hold the two most influential positions in the EU; they represent the EU and its member states at the G7 and G20. The new leaders will definitely give a new swing to Europe's international role.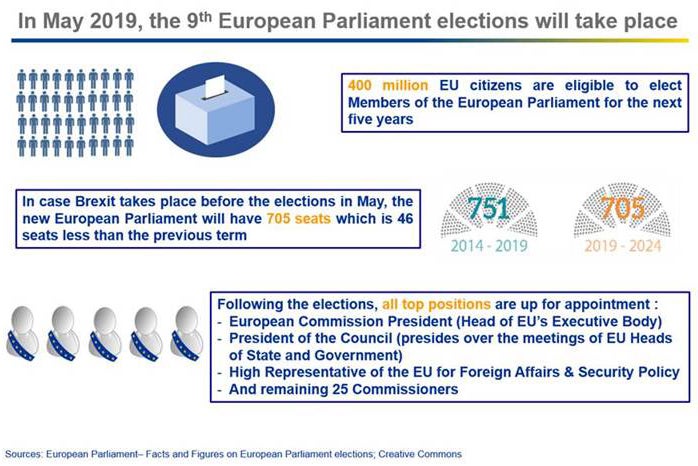 Third, Brussels isn't the only place that will see a leadership change. In Frankfurt, the helm of the European Central Bank is up for the taking in 2019 independent of the European elections. Mario Draghi, who played such a crucial role in fighting the euro debt crisis, will step down after eight years in office. This opens up one of the most coveted positions in international finance.
The ECB president sets the tone of the euro area's monetary policy and therefore has an important role in influencing market perceptions of the institution, even though ECB policy is jointly decided by its 25-strong Governing Council. Next to the president, two more executive members are up for renewal, which means that half of the executive board will be new. These changes come at an important turning point in the market, now that the U.S. Federal Reserve has postponed further rate hikes, and the ECB has ended its quantitative easing program.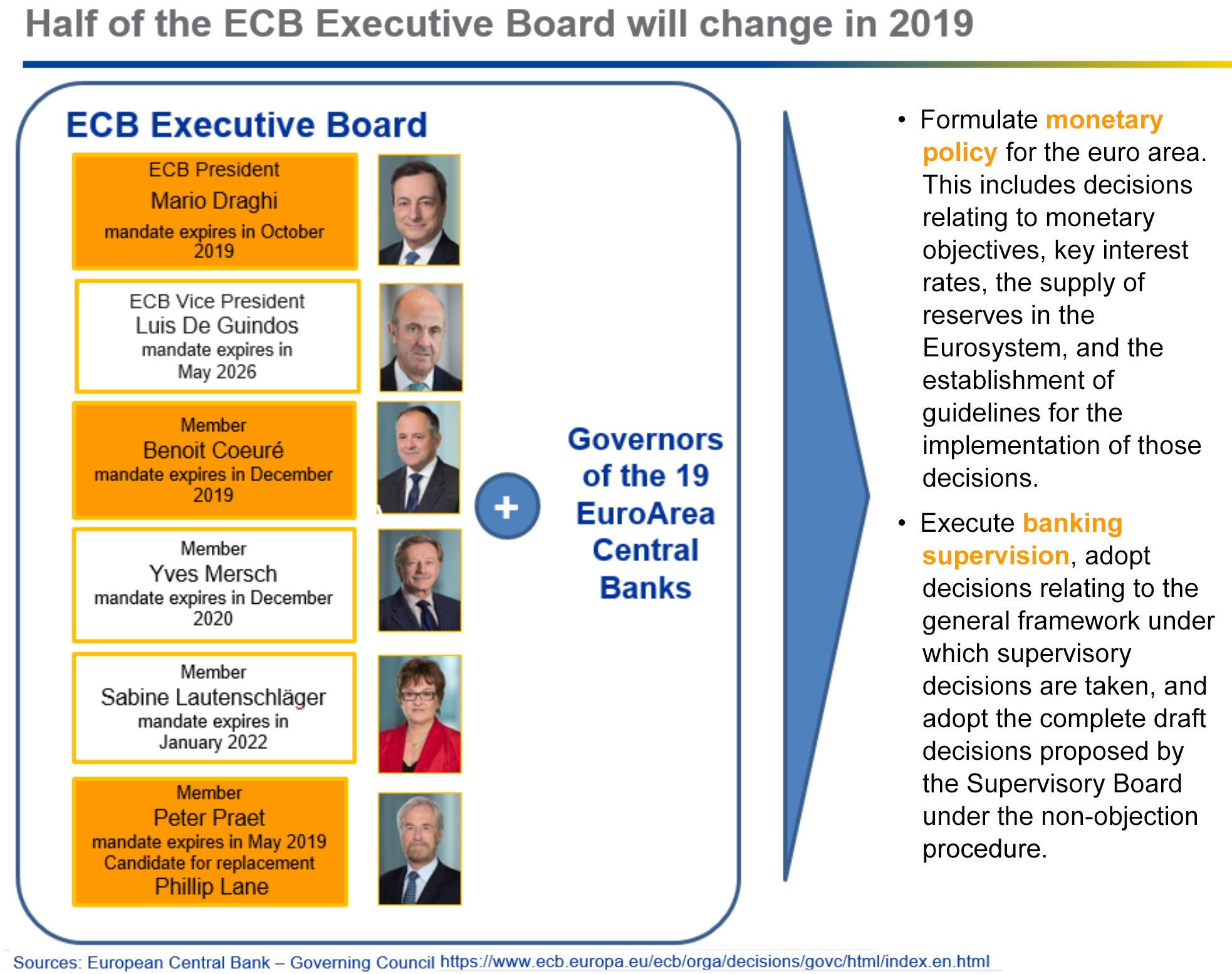 Fourth, the process to strengthen Economic and Monetary Union will continue. The Treaty upon which the ESM is based is being amended to take into account its new tasks. It then needs to be ratified by all ESM member countries. The other points decided on in December also need more work to come to fruition. As the results of these decisions become more tangible, I believe this will help to boost sentiment in financial markets towards Europe further.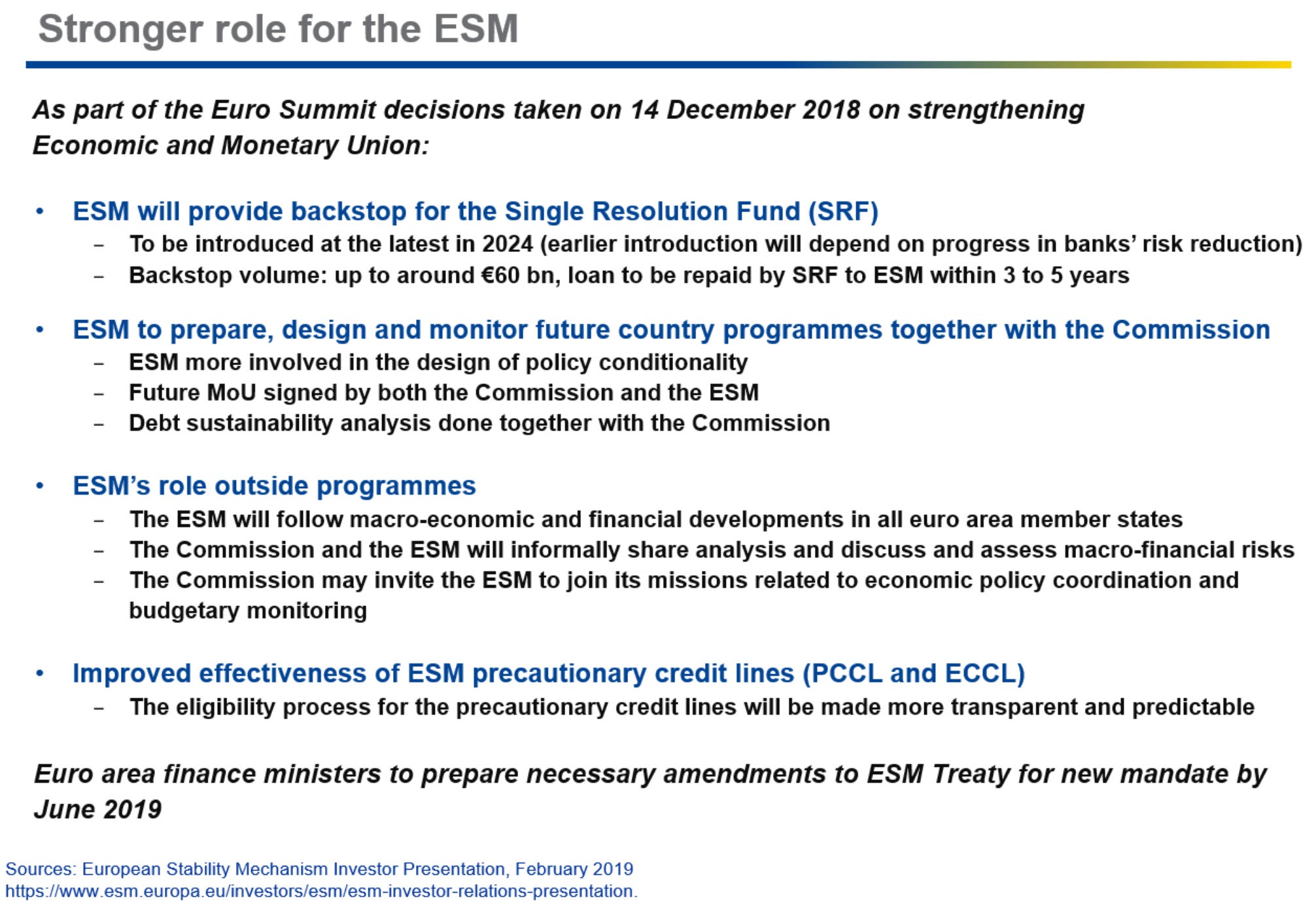 Europe has made great strides over the past decade. It took other large economic regions far longer to reach the progress made in our institutional architecture and economic governance. Europe is now in a much stronger position to face economic and financial uncertainty and risks. This brings me to my fifth and final factor to watch for 2019: strengthening the international role of the euro.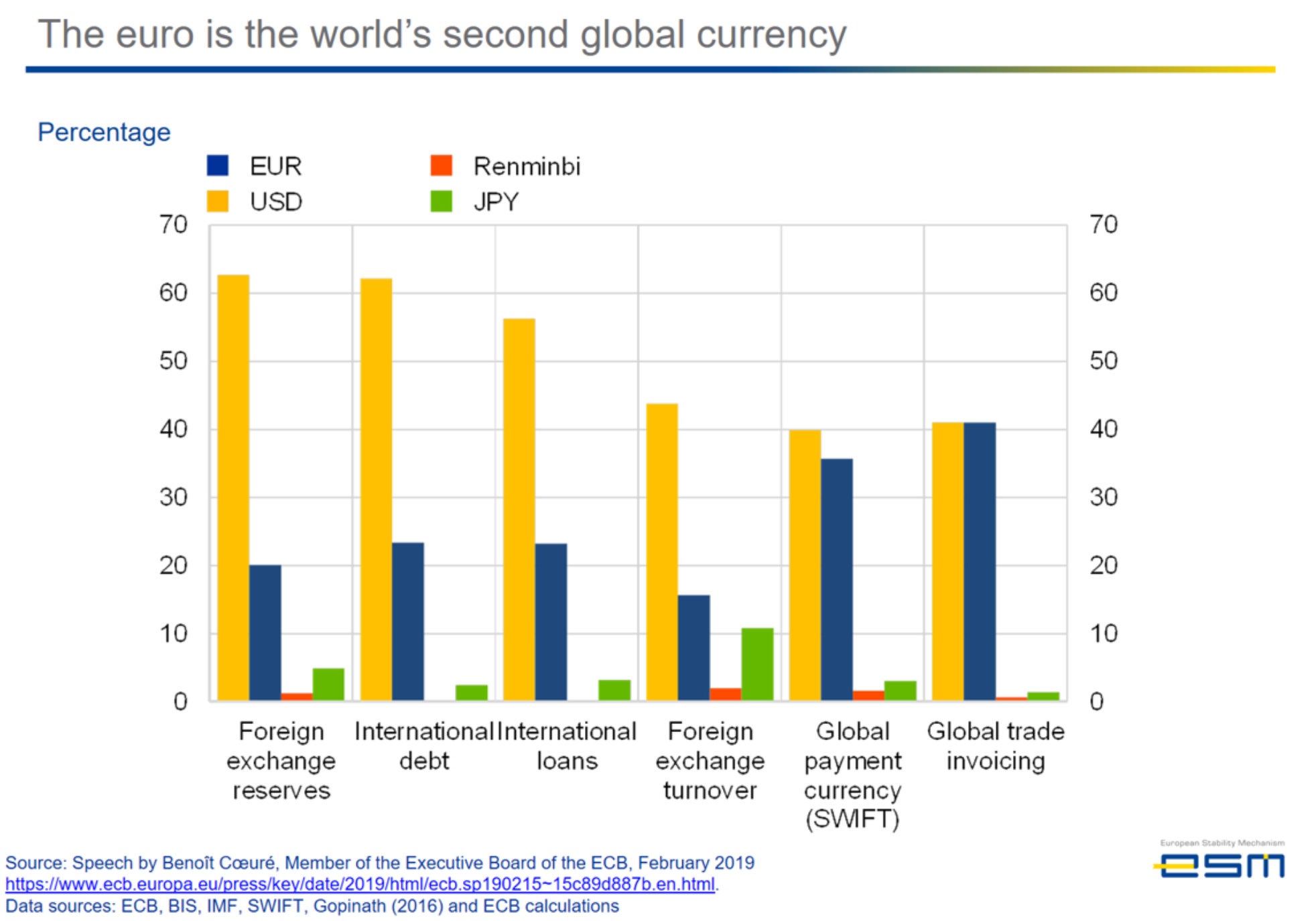 With Europe's greater resilience and independence, the euro has the potential to play a bigger part on the global stage. It is not our ambition to replace the dollar. We are aiming for a multipolar system, in which several currencies have a comparable role, including the dollar, the euro and the renminbi. For that to happen, Europe can take many different steps. Further deepening of monetary union, reducing financial sector fragmentation, completing Capital Markets Union, improving capital markets infrastructure, and reducing Europe's security dependence on U.S. IT and financial infrastructure providers are a few examples. One concrete outcome could be the start of a true Euro Public Debt Issuance Platform, run by a European body and supported by Euro-issuers — a need expressed and championed by the ECB and ESM.
The creation of safe assets in Europe would be another important step forward. So expect to hear a lot about these issues not only from Europe's capitals, but also from the European Commission, European Central Bank and the European Parliament. The ESM will also address this issue, as it relates to financial markets.
These are the five factors to watch for in 2019. If handled well, Europe will again come out stronger in a year's time. And that is important. Because cooperation between European countries protects the values we hold dear, such as solidarity and tolerance, a fair and prosperous society — and, as has become clear after an unprecedented 70 years of peace on the continent, the security of its citizens.