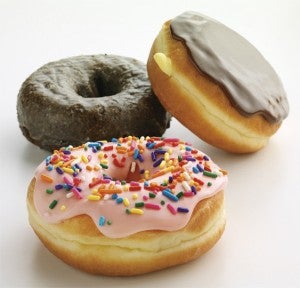 When Starbucks announced that it was coming into India as part of a partnership with the Tata Group, there was a lot of excitement in the country's coffee shop segment. The first Starbucks outlet is scheduled to open in August. Meanwhile Dunkin' Donuts, another U.S. coffee and baked goods chain, beat the Seattle-based company to the punch: On May 8, the Canton, Mass.-based Dunkin' Donuts opened its first restaurant in India, in city center Connaught Place in Delhi. "We are confident that Indian consumers will love our format and our product offering," says Dev Amritesh, chief operating officer and president of Dunkin' Donuts India.
Cafes have the potential to become big business in India. The entire restaurant sector is growing rapidly at around 25% annually, according to a National Restaurant Association of India (NRAI) white paper. But the cafe segment is growing faster at 30% to 35%. This is even before the entry of Starbucks and Dunkin' Donuts, which should catalyze further demand. "Cafes or coffee shops are a relatively recent phenomenon in India," notes the NRAI paper. "There are more than 1,500 coffee shops in the organized segment, spread all over the country and of which 50% are accounted for by just two companies [Café Coffee Day and Barista]."
Dunkin' Donuts, however, aims to be more than a coffee shop. Its branding in India is Dunkin' Donuts & More, a designation that is unique among the 32 countries (10,000 restaurants) where the company currently has a presence. "We believe Dunkin' Donuts will occupy the sweet spot in between cafés and quick service restaurants, as we offer elements of both," says Amritesh. "[It has] a great all-day menu of food and a fantastic range of beverages, along with a chilled out, modern and relaxed environment."
The "& More" in the positioning statement indicates that the company has learned from the experience of other international chains that have previously tried to break in to the Indian market. The world over, Dunkin' mainly features donuts on its food menu, with a few breakfast options. In India, however, there will be a whole range of sandwiches and a large number of new flavors in donuts — mango and lychee, for instance.
When Kentucky Fried Chicken (KFC) came into the country in 1995, it arrived with an identical menu to what was available elsewhere. Kellogg launched its cold breakfast cornflakes in India, unmindful of the fact that the nation's consumers preferred their breakfast hot. Kellogg languished for more than a decade. KFC ultimately had to set up shop, in part due to anti-multinational agitation (It has reopened since.)
By contrast, McDonald's quickly adapted to local palates. It introduced items that fit local palates, like the McAloo Tikki (a potato burger minus meat and even onions). These items are now being added to the fare in other countries. By adding the variety — sandwiches, milkshakes, smoothies and other yet-to-be-decided snacks — Dunkin' hopes to hit the ground running.
Dunkin' Donuts comes to India in a joint venture with Jubilant FoodWorks. The Indian partner already has a similar agreement in place with Domino's Pizza. As of December 2011, the company had a network of 439 Domino's Pizza stores. Dunkin' is looking at opening 10 stores in 2012-2013 with another 100 the next year.
The two partnerships complement each other, notes Jubilant chairman Shyam Bhartia. "India is a key strategic market with immense potential for growth in the food service business," Bhartia said at the launch. "Our team has been working very hard over the past year to come up with a differentiated value proposition and the result has been very gratifying." Indians are now ready for a new menu and a new lifestyle he said.