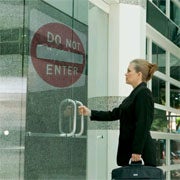 Why aren't more women reaching the corner office? In many industries, it's a pipeline issue as much as a problem related to discrimination or the glass ceiling, according to panelists at a Wharton Global Alumni Forum that took place in June in San Francisco.
"It's nice to have more diversity, but sometimes we don't have girls entering the pipeline where they could [end up] in the jobs," said Anne Hardy, vice president for technology and strategy at software company SAP. Hardy participated in the panel on creating more opportunities for women to enter and advance in the business world with Janet F. Clark, CFO of Marathon Oil; Connie K. Duckworth, a retired partner and managing director at Goldman Sachs who now runs ARZU, a non-profit organization creating economic development opportunities for women in Afghanistan; and Rosanna Ramos-Velita, chairman of the board of Caja Rural Los Andes, a microfinance institution in Peru.
Noting that she is usually the only woman present when she attends meetings at her organization, Hardy suggested that part of the challenge of recruiting women in industries like information technology or engineering is that comparatively fewer young women than men are choosing to pursue those fields in high school and college. "If you look at photography, videos or movies — typical things that girls of middle school or high school age are interested in — if they only understood that by studying computer science they could get into those jobs … maybe they would like technology more."
Citing studies showing that the number of new IT jobs is growing faster than the number of new graduates in the field, Hardy said recruiting more women as well as men is the only way all the needed expertise will be available in the future. Studies have shown that women who do enter technical fields such as engineering ultimately leave because they feel isolated from their peers or passed over for promotions. According to Hardy, entire companies need to be involved in breaking down those barriers. "When there are activities to increase the number of women, we tend to only have women at the table," she said. "We need to get men at the table and convince them that it's not only a women's issue."
In addition to making young people more aware of the job opportunities available in certain fields, Duckworth suggested that enticing more young women to study business may also involve a mindset change. She pointed to a national study showing that teen boys cited money as their number-one criteria for choosing a job, while girls said their main consideration was finding a position that would help change the world.
Many young women see going into business as contradictory to that goal, Duckworth said. "I think back to when I was 13. What was I doing? I was running the ecology club at school, and what did I want to do? I wanted to save the world," she noted. "There is this disconnect between perception and reality, and it's partly about encouraging younger girls to go for the money because you can do a lot with it, and encouraging those boys to give a little back along the way, and save the world a little bit, too."