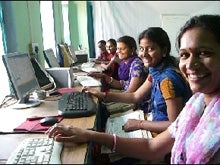 One of the pillars of the Indian BPO industry has been the country's large, educated, and English-speaking population. But it is an advantage that has been steadily eroding in recent years. One of the biggest challenges that industry players now face is supply constraint. Lack of trained manpower has led to wage escalation and high attrition. That, in turn, now threatens India's dominant position as an outsourcing destination.
To counter this trend, Indian BPO firms have been adopting various measures. One of them has been to cast their net wider into tier 2 and tier 3 cities (defined as cities with a population of 5 million or less) to tap the talent pool available there. Now, they are going deeper into the hinterland to the rural locales.
First among the large IT & BPO players to set up a company-owned rural BPO center is Wipro Technologies, a Bangalore-based IT services firm. The company recently opened its first rural BPO center at Manjakuddi village in the southern state of Tamil Nadu. This center, which is working for an international client, has an employee pool of 60 people. Wipro plans to increase this to 120 by March next year and to around 300-500 over the next two to three years.
Pointing out that within a 40 km radius from the Manjakuddi center there is an annual pool of 14,000 graduates and that typically only 25% of the graduates from villages migrate to the cities, Manish Dugar, senior vice-president and global head, Wipro BPO, says: "This [the rural BPO center] is not a cost play for us. This is an innovation in our delivery model. If we can successfully create a model that allows us to tap into the talent pool in the rural areas, we would have created a sustainable labor supply going forward. We expect a fair share of our future growth to come from the rural centers."
Rural BPOs have in fact been gaining momentum in recent years. But typically these have been captive back-office centers of large organizations such as the Tata Group or the HDFC Bank. Others have been small centers (employing between 20 and 100 people), set up by small third party players and NGOs. The larger IT and BPO players, while they have been exploring the options, have yet to make a significant mark in this space. Some, like Infosys BPO, have made a tentative beginning by partnering with others.
The critical issue is the business model. The big players typically operate a few large centers. To run a large number of small centers across the country would need a shift in mindset and policies. It would also require huge management bandwidth. Take Wipro BPO. It currently has a total of 30 centers; nine in India and 21 outside. In each of its India centers it has an employee pool of around 2,500 people. In its rural centers it is looking at a maximum of 300-500 people per location.
Kumar R. Parakala, partner and head of IT Advisory at KPMG in Europe, Middle East and Africa, believes that "as long as players are not considering a large-scale operation, the rural BPO is a viable option for organizations seeking to cut costs and attrition rates and gain access to untapped talent." Scalability, he says, will depend upon a number of factors including socio-cultural constraints, sales and marketing effectiveness, infrastructure availability and quality. "In the rural context, each of these has its limitations," he notes.
According to Parakala, the hub-and-spoke model could be an optimal format to deliver international non-voice processes out of rural centers. "The critical success criteria of this model running seamlessly are smart break-up of process, clarity on what can effectively be done out of the rural BPO center and stringent quality control measures," he notes.
Sridhar Mitta, a former Wipro veteran and founder of NextWealth Entrepreneurs, an IT services company with a distributed delivery model, offers another view. He believes that large IT and BPO organizations will find it tough to run their own operations in rural locations because of inherent internal conflicts around compensation, career trajectory, management bandwidth and so on. NextWealth follows an entrepreneur-led model and Mitta believes that having a local front end is imperative to deal with the challenges of rural India. "The large players will be more effective in the rural space if they adopt the entrepreneur-led, franchisee-based, distributed network model or partner with others who have adopted this model," he says.
Wipro's Dugar, meanwhile, is open to all possibilities. He notes that the Manjakuddi center is a pilot project, and Wipro's future strategy around rural BPOs will depend on its success. "But we are already evaluating other possible locations where we can set up our own centers. We are also talking to other players," he says. "Anyone who wants to be relevant and survive in the BPO industry has to innovate in the talent supply chain. That is what we are working towards."