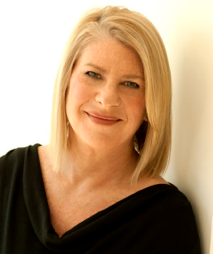 An avid skier, Kay Krill revealed her passion for online shopping and multi-tasking in a single sentence. "I was up in the air on a three-minute gondola ride last weekend in Vermont, pulled out my phone and purchased two things" from a home decorating website, the CEO of Ann Inc., home of the Ann Taylor and LOFT brands, said in a speech during the recent Wharton Women Business Conference. "Shopping online is the way of the future. The challenge is figuring out what that will do to bricks and mortar [stores]."
Dressed in black leggings, high boots and a bolero jacket with tufts of leather and fur, Krill's elegantly casual look would fit in anywhere — a signature of the brands that make up the $2.2 billion company that she oversees. One of just 21 women in the United States to run a Fortune 1000 public company, Krill notes that Ann Inc. is "a company of women, for women." Indeed, of the firm's approximately 20,000 employees, about 93% are female.
When someone at the conference inadvertently called Krill "Ann," she laughed noting, "I get that all the time." But Krill did not step into Ann Taylor's peep-toed shoes — indeed, no such person existed. The firm was founded in New Haven, Conn., in 1954 by Robert Liebeskind, who was given the Ann Taylor name by his dressmaker father. Liebeskind thought "Ann Taylor" sounded classy enough to complement the upscale, tailored clothes on his racks.
In 1977, Liebeskind sold Ann Taylor — now a regional chain — to the Garfinckel's department store company, which also owned the Brooks Brothers brand. The brand changed hands a few more times before going public in 1991.
Krill's career started when she took a management trainee job at Macy's after graduating from Agnes Scott College, a small, liberal arts school in Decatur, Ga., where she majored in psychology and economics. "I didn't have a clue what I wanted to do. I loved clothes … but I really loved tennis. I thought maybe I would find a career in sports," Krill said. "The important thing is finding your passion. Life is too short to get up every morning and not love what you do. There is no set time when you will find your passion, but in the long run, don't settle for less."
After leaving her job at Macy's, Krill moved around the country in pursuit of a retail career. She worked for Talbot's for eight years, followed by a stint at Mark Shale, an upscale retailer in the greater Chicago area that closed late last year after an 83-year run. Later, she took a job at Carroll Reed, a firm known for preppy clothes and must-have ski wear that also eventually folded.
Krill joined Ann Taylor as vice president of merchandising in 1994, three years after the company went public. She became president of the LOFT division in 2001 and president of Ann Inc. in 2004. Krill gained the title of CEO in 2005.
At the Wharton conference, she cited the launch of LOFT in 1998 as a career high. Her marching orders at the time were to create "Ann Taylor light," a line of trendier, more casual clothes that appealed to a younger demographic than the flagship brand and that were also less expensive (or, as Krill likes to say, were sold at "surprising prices.")
"My first try was not a success, but I was not giving up," Krill recalled. "I kept begging the board to give me and my very small team more time. Finally, we did figure it out, which was the highlight of my career. Now, Loft is bigger than Ann Taylor." Of the company's 981 stores in 47 states, more than 500 are LOFT locations. Less than 300 are Ann Taylor and the rest are LOFT and Ann Taylor outlets. The company also operates an online business, which includes a line of wedding and bridesmaids dresses.
Rethinking Everything
Despite a recent upturn in earnings, Krill said she slogged through a difficult retail environment amid the 2008-2009 economic downturn. The rise of online shopping forced the company to rethink everything, she noted. As a result, new stores were designed to be substantially smaller with fewer employees.
A share of Ann Inc. stock is currently priced in the low thirties. During the depth of the recession, however, it dropped below $3 a share. Consumer confidence was at an all-time low, forcing many retailers to restructure or bail. "The worst year was 2008," Krill notes. "But no matter how depressed I was, I had to remain positive. That's what leaders do. Staying positive is one of my strengths. Getting that stock back into the $30s has been an amazing journey."
Krill describes herself as good listener with an ability to get along with a variety of personalities. Rather than hire clones, she noted that her inner-circle is composed of a diverse group so Krill is constantly exposed to wide range of opinions.
Selling clothes, shoes and accessories that women want is Krill's job. Nurturing a business with a soul is her passion. Since 2005, Ann Inc. has contributed more than $25 million to charities, including St. Jude Children's Research Hospital and breast cancer research. "Financial success is key to leading a company. But so is bringing heart and soul and strong values," Krill said. "In return, those commitments also help to attract and retain top talent in the retail business."
ANN, Inc. is also partnering with a global, nonprofit organization co-founded by former U.S. Secretary of State Hillary Clinton in 1997. Called Vital Voices, the group's goal is to identify and invest in the next generation of women leaders. The company is in the process of selecting 50 rising juniors or seniors in high school to participate in a three-day leadership training conference in April in Washington, D.C. The teens who are selected will have the chance to be mentored by female leaders and executives hailing from across the globe, and to win grant funding to launch service projects in their communities.
To promote the search, signs appeared in Ann Taylor stores during the month of January saying, "Do you know a girl who wants to change the world?" Apparently, 1,000 people did, based on the number of applicants. ANN Inc. plans to invest $1.3 million over four years to support the Vital Voices network. Recently, the company announced the inclusion of actress Kate Hudson as an advisor on the project.
"We are driven to inspire and connect with women to put their best selves forward every day," Krill noted. "We are proud to launch the goal of finding and empowering the next generation of women leaders committed to making a difference in their communities and the world."
Among Krill's words of advice to conference attendees were her views on achieving work-life integration. Giving birth to twin boys at age 44 turned Krill's life upside down she noted. "You can't have it all, but you can have what you want," Krill, now in her late 50s, said. "That's the tough part — figuring out what you want — and eliminating everything else. I used to go places I really didn't want to go to. No more. Wild horses couldn't keep me away from dinner with my family. I have also learned how to get to their sporting events. Trust me. It can be done."
Earlier in her career, Krill resented bosses who did nothing but work, and expected the same from everyone else. "I lead by example, which gives my staff permission to have a life," she noted. Krill further advised the audience to "be humble, be authentic and trust your gut. When you get cocky, you only fall harder. Peacock today: feather duster tomorrow."