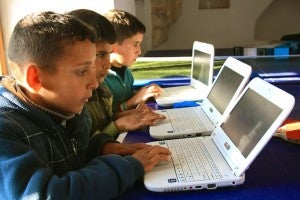 Kamran Elahian visited the West Bank for the first time in 1998, at the invitation of the Minister of Education. He cajoled an Israeli business partner to drive him across the border, although the man had never visited Palestine before. "I [could not just go there] and ask, 'Which way is Ramallah?'" Elahian said during a presentation at Stanford University on October 8th. "I was born in Iran, but I'm not Muslim, I'm not Jewish and I'm not Arab."
But he is determined. When the two found they were lost, Elahian got out of the car and asked a crowd of Palestinians for help. They led the men to the ministry — where they were treated so well that more Israeli venture capitalists were willing to join Elahian on future trips across the border.
Elahian shared his story with attendees at a forum to connect Palestine's information and communications technology sector with like-minded Arabs in Silicon Valley, sponsored by TechWadi, a nonprofit group attempting to foster economic development in the Middle East and North Africa region (MENA).  Elahian and his wife Zohre head the Global Catalyst Foundation, based in Redwood City, Calif., where they spearhead projects around the world that improve education and alleviate poverty.
The two philanthropists believe in a new model of assistance: They contend that global venture capital can be more effective than traditional government-sponsored aid programs. Elahian doesn't consider the foundation to be a charity group. Instead, it supports projects that "create empowerment [and] allow people to see themselves as agents of change."
Within the next five years, Elahian hopes to arm 280,000 Palestinian children with Intel Classmates — netbooks containing the company's Learning Solutions software — through a project known as NETKETABi, which means "my netbook" in Arabic. His foundation is working through Partners for Sustainable Development to distribute the equipment for a microloan — about US$10 a month for three years. "We learned that when you give things for free, it creates corruption; it creates a black market," Elahian said.
Through experience, he has also discovered the best approach to help elevate a poor country or region is to target education, children and women. NETKETABi wants to give Palestinian children a chance to compete on a level playing field by teaching them the skills they will need in a knowledge-based economy. Elahian sees practical applications in his quest. "Anybody who creates a company and becomes an entrepreneur helps society," he said. "Whether an entrepreneur wins or loses, society wins. If we created [more] entrepreneurs, we wouldn't be having these problems [with the global economy]."
The project also plans to connect the West Bank to the Internet through DSL. Leaders of the project eventually want to expand into Gaza, where the need is even greater.